MLS Listings in Barrie North End
Boundaries: Bayfield Street to Little Lake, Hanmer Street E to Highway 400
Courts and crescents with woodsy names reflect the original developers' concept of building in and around the original tall trees.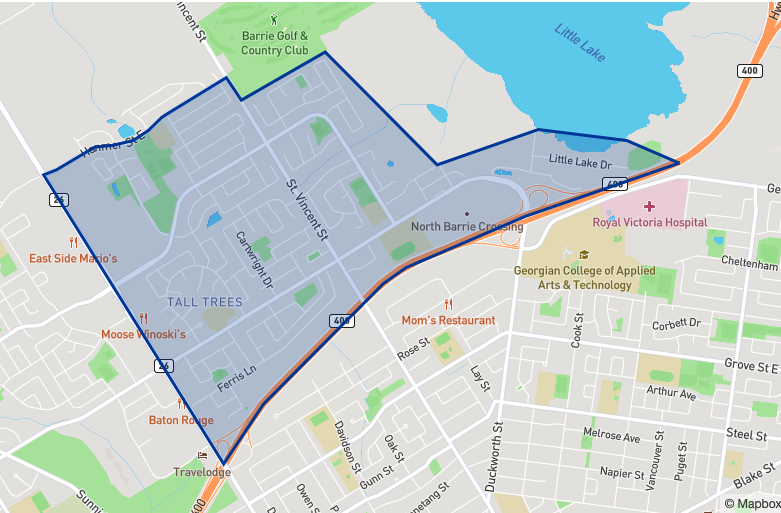 The Village Of Cundles
Previously the North End encompassed the small village of Cundles in Vespra Township. In 1959, Cundles, with it's population of about 70, was annexed to become part of the newly created City of Barrie. The villagers desired the change, with a view to their lands being better served as a part of an organized municipality.
Now you will find the name remains in Cundles Road, a tribute to the area that once belonged to pioneering lumber man Thomas Cundle in the mid-1800s. The actual Cundle estate had at one time consisted of over 300 acres and six separate properties. You can still see the reminder of Cundles legacy in the nearly five-acre hardwood forest behind Cundles Heights Public School that makes up Tall Trees Park.
Nearby Schools
The North End is served by Cundles Heights Public School, Terry Fox Elementary School, Maple Grove Public School, Oakley Park Public School, Monsignor Clair Catholic Elementary School, ÉÉC Frère-André, St Joseph's Separate School, and Sister Catherine Donnelly Catholic School, which is highly rated at 8.3 by the Fraser Institute. Also within reach is Barrie North Collegiate Institute, North Barrie Alternative School, and the Barrie Montessori & Elementary Private School.
Let's Get It Done.
We look forward to working with you on one of the most significant transactions you'll ever make. And we guarantee what we do.
Contact Us Today