MLS Listings in Barrie City Centre
Boundaries: Bayfield St to Duckworth St south of Highway 400 to Kempenfelt Bay
Barrie's downtown core wraps around Lake SImcoe's sparkling Kempenfelt Bay. You'll find amazing opportunities for outdoor fun, including parks, marinas and lots of dining and shopping options on the newly-revitalized Dunlop Street strip.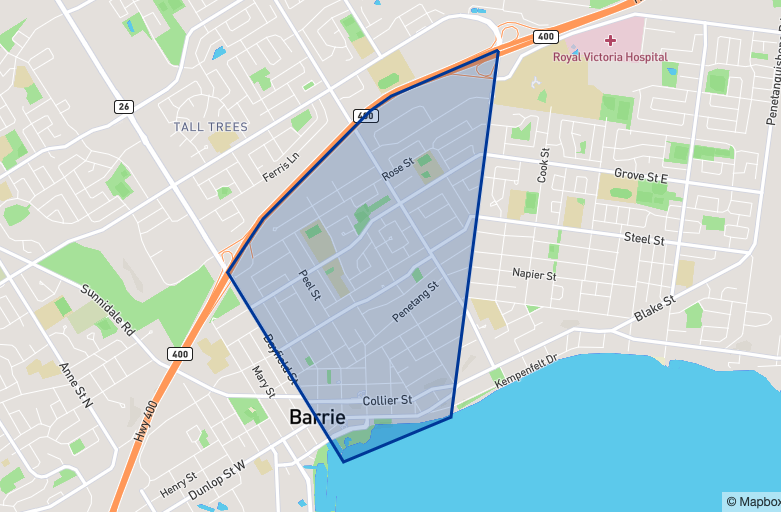 Renewal And Rebirth
Barrie has a history of rising from the ashes - literally! According to local historian Mary Harris, every Downtown block fell to flames at some point. The original shops were made of wood and covered in roughcast plaster, built in the 1830s-50s. When they burned, they were replaced by brick structures. Most of what you see today is 1870s era build. With the city's own streetscape renewal project well underway, along with several new waterfront-focused condo projects, Barrie's downtown is enjoying a new cycle of revitalization and growth.
One of the hottest areas is the historic Five Points Intersection, which has roots that go back almost 200 years. The unique brick-road intersection known as the Five Points marks the meeting points of Bayfield Street (named after Admiral Henry Wolsey Bayfield, a hydrographic surveyor with the Royal Navy), east and west Dunlop streets (probably named after Dr. William 'Tiger' Dunlop), and Clapperton Street (named after British naval officer and explorer, Commander Hugh Clapperton).
Educational Opportunities
Downtown students may study at Barrie North Collegiate Institute, St. John Vianney Elementary School, Oakley Park Public School, Maple Grove Public School as well as Liaison College Barrie, Huronia Arts Academy. Nearby, off Duckworth Street, is Codrington Public School, which rates highly at 9.2 on the Fraser Institute School Rankings.
Let's Get It Done.
We look forward to working with you on one of the most significant transactions you'll ever make. And we guarantee what we do.
Contact Us Today